Tune Pals are musical friends who encourage movement in kids with limited physical abilities. This is a 3-month long project in collaboration with engineers and MBAs from MIT. I was working in a team of 8 as a UX Designer.
Client:
MIT Sloan School of Management
Project:
Product Design
UIUX Design
Year:
2016
Meet Rafi
Other than always having a big contagious smile whenever he hears the music of his favorite artist, Ed Sheeran, Rafi is a 14-year-old boy with cerebral Palsy. He goes to school every day and performs physical therapy exercises. He doesn't really enjoy physical therapy and there is very few exercise equipment available for him. According to his teacher and our researches, most of these equipment cost around $2,500.
User Interview & Testing
As a team we paid multiple visits to 3 intuitions/recovery centers for people with Cerebral Palsy, observed over 30 people with the condition, and talked to over 15 professional caretakers/staff who work with kids with CP. These visits have validated that there's truly a white space for an enjoyable, safe and affordable product that helps to exercise muscles for quadriplegics.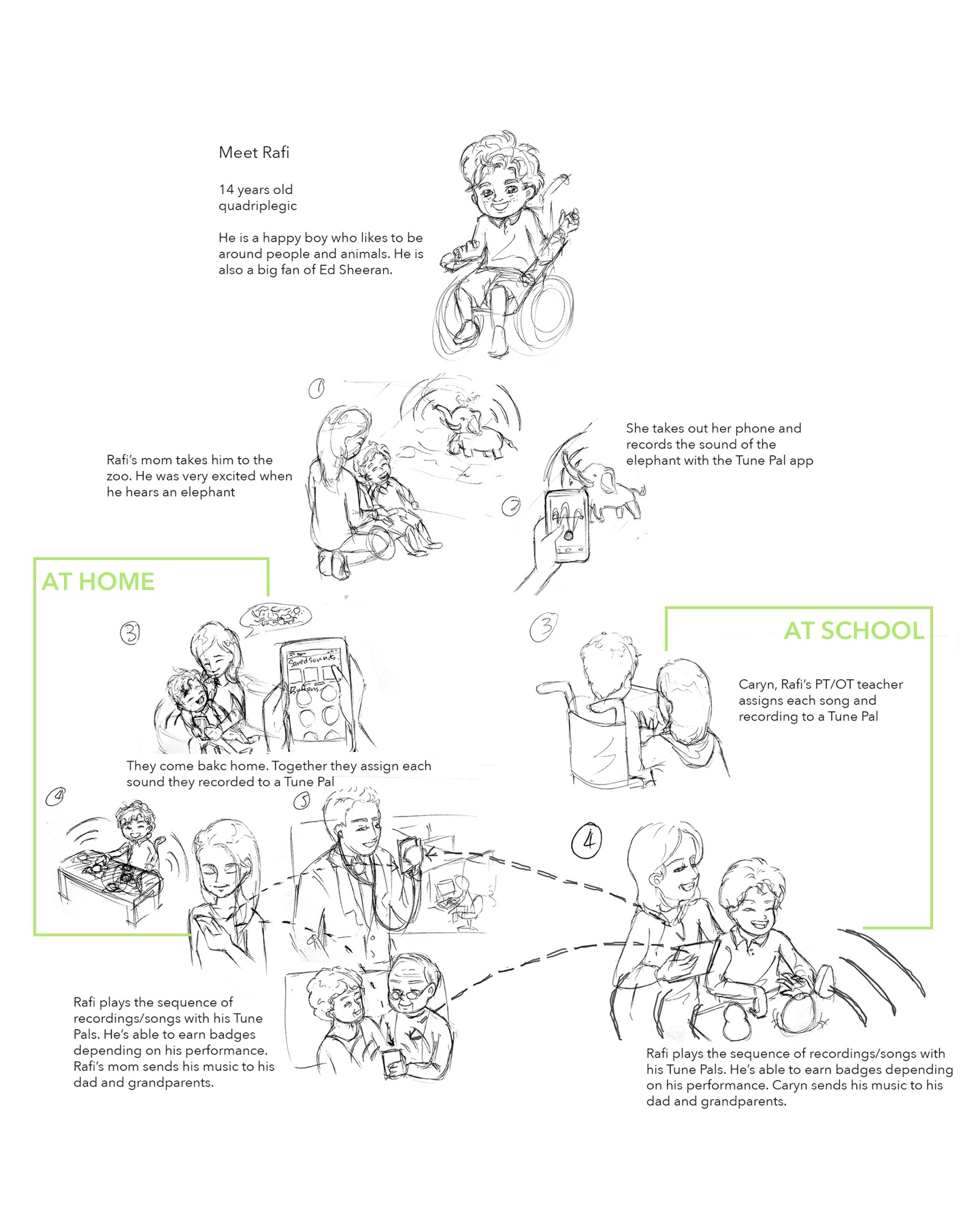 Product Demo – The App
Each game play is initiated by the app. Here are the 3 main features of the app:
CUSTOMIZATION
We understand that our users may have a wide range of physical mobility and preferences therefore both of our physical and digital products are designed to be customizable. Digitally, the caregiver is able to update the music/recording library remotely. Any combination could be a part of the game play. The modes enables free play and instructional play.
OPEN COMMUNICATION
One major difficulty that we have learned during our visits is the lack of communication between the caretakers and the parents. A quarter of the kids with CP are non-verbal. The only way to get updates about the kids would be face-to-face monthly PTA. The app allows easy and open communication system within the homepage. 
REWARD SYSTEM
It is a constant compain that PT and OT activities are tedious. However, with the reward system that we've created in the app, the collectable badges encourage long term engagement through positive reinforcement.